---
While for most of the past several years, whenever we've published a story on ANP about 'toxic feminism' or the growing insanity of the 'lgbt agenda', most of those stories have been written by Susan Duclos but several stories out over the past few days alone have pushed all of that so much further into the 'ludicrous' territory, I had to weigh in on them.
(Article by Stefan Stanford republished from AllNewsPipeline.com)
As Susan reported in this September 10th story, according to 'traditional feminist' Christian Hoff Summers, 'modern day feminism' is literally 'madness' with University professors and other 'educators' across America preaching that all women are traumatized, fragile victims of an oppressive patriarchal system and as Susan pointed out in her story, keep in mind, Summers is a Democrat.
With the 'bottom line' to Susan's story being 'normal women' need to take more of a stand against the feminist man-haters that make up today's modern feminism because the terms 'feminism' and 'feminist' have themselves become controversial, and not because of the 'right's culture war' against the left but because of the 'left's culture war' against men and masculinity, as we learn in this new story over at the Daily Mail, the 'left's culture war' has gone on the attack against President Trump's Housing and Urban Development Secretary Ben Carson who recently made remarks that have totally triggered the lgbt community because they make far too much sense.
As Dr. Carson recently remarked, he strongly believes that 'big hairy men' who 'identify as women' and who find their way into a battered women's shelters shouldn't be there with women because they would only further traumatize those women who are living there as very real victims in those shelters, places they can get away from their own abusers and try to live their lives safely again.
So Carson is being called 'transphobic' and 'insensitive' for standing up for the rights of women who are victims of violence or victims of their spouses and felt they had nowhere else to turn but to go to a shelter.  Anybody else see just how insane the lgbt agenda is getting when it ignores the rights of women who are victims? As we'll explore in the next few sections below, we haven't seen anything yet.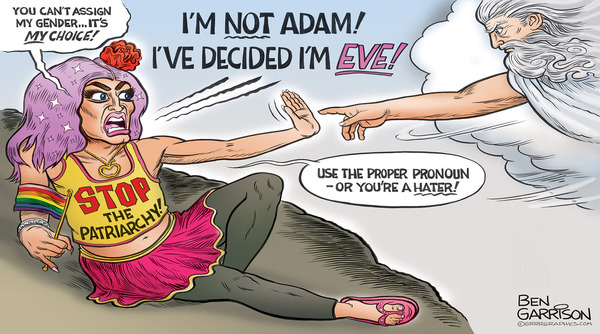 According to world reknown psychologist Dr. Paul McHugh from John Hopkins University, transgenderism for children is not only dangerous, he actually goes so far as to compare it to children getting a frontal lobotomy.
Warning that many in the medical and psychiatric industries will come to regret the ease with which they are now experimenting on children who claim to be transgender, Dr. McHugh claims that the entire transgenda push in young children is nothing more than 'an experiment' with no evidence treating young children with hormones will be the right choice, especially with so many young minds having this pushed in their faces by the establishment.
With this recent Breitbart story also reporting that a recently released study published at the American Journal of Preventive Medicine found 78 percent of college students who claim to have gender identity issues meet the criteria for at least one mental health problem, such as depression, anxiety, eating disorders, self-injury, and suicidality, we maybe shouldn't be suprised that those high numbers compared with only 45 percent of students who are comfortable with their biological sex having similar issues.
McHugh said he believes, for many of these young people, mental illness precedes their gender identity disturbances.
"I think their mental problems, often depression, discouragement, are the things that need treatment," he explained, adding:
I'm not positive about this. It's a hypothesis, but it is a very plausible hypothesis, and it would explain why many of the people who go on to have treatment of their body discover they are just as depressed, discouraged and live just as problematic lives as they did before because they did not address the primary problem.
Read more at: AllNewsPipeline.com